One of the fundamental rules of a good style so to be dressed up appropriate to the situation. Even if shoes may seem a small detail of the outfit, they turn out to be the most important and powerful one because they can tell everything about your life – your social status, your work, your lifestyle, your habits and tastes. Just one look at the shoes can tell if there is an organized or a sloppy person in front of you, if he is ambitious or lethargic, if he cares about himself or not.
In this guide we will show that it's not as difficult to choose the perfect men's shoes for any occasion as you thought. Even if the style and color nuances of the shoes and the combinations to make with them can be confusing sometimes, there are just few basic rules that will make your choice much more secure and your life much easier.
You can look your best in any occasion without putting much effort if you make a wise shoes choice and have an elegant and versatile wardrobe at your disposal.
We will tell you how to create one and how to dress up for success!
Rules to remember: Right shoe can tell everything about your life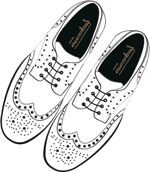 Your work
Your lifestyle
Your habits
Your taste